About Fay Bailey
Fay's background is in Midwifery, Nursing and Teaching, A scientist by nature, and always a sceptic. 33 years ago she was designing and developing the teaching and training needs for 6,500 multidisciplinary staff at a major Hospital Trust. Then one day serious illness struck her down, and she found herself very sick indeed, and with two young children on board.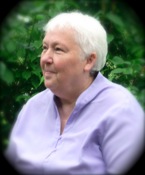 Fay says "I know this may sound like a cliché but someone took me to a Healer and gradually, bit by bit, with the help of Reiki and Reflexology I crawled my way back to health. . It was then that I answered the call of the Universe and became a Reiki Healer and Reflexologist"
Fay obtained her Reiki Mastership (for the second time) in Egypt and was attuned in the King's Chamber in the Great Pyramid at Giza. Fay was attuned to Mastership again a third time in the sacred circle of Stonehenge.
Fay is a Reiki Energy Master Teacher, Advanced Reflexologist, a Neuro Linguistic Programming Trainer and Teacher and has a Diploma in Hypnotherapy/ Psychotherapy and Life Coaching.
She has a special interest in the Law of Attraction and runs courses in all of the above areas.
Fay also teaches on higher educational programmes in holistics, science and anatomy and physiology. She has a Master of Education Degree from the Victoria Univerisy of Manchester.